Originally appearing in the late 2000s as the collaborative project of Dean Blunt and Inga Copeland, Hype Williams seemed to end once the pair moved into solo work. In recent years, however, the project has returned with new releases and suggested the moniker can be passed to new artists.
Rainbow Edition is credited to Hype Williams, but comes with a new press photo featuring new members Slaughter & Silvermane( that probably fake personalities).
On some music forums people talk that Ogritch (who helped Dean, with his last USA tour and released mysterious album from Zomby) now a part of updated Hype Williams.
Yeah, this is always hard to get 'what is real?' if we talking about Hype Williams and S Ogritch.
But lets bring some light...
Hype Williams live in MIGZ2011 (Russia).
Everyone expected for Dean Blunt and Inga Copeland on the stage,
but here we see only one white guy in mask.
Bunch of people wandering who it was,
so later Inga Copland said that it was some Dean's neighbor (Hyperdub interview).
This is hard to build
some connection between Dean Blunt and S Ogritch
based only on that video,
but we will use this as a start point for story with 'Russian Neighbor'.
Because later we see like different people around the world discuss new interesting facts about this mystery.
"
he organized the us babyfather tour
" - mentioned topic starter
Bluntthrowawaydean
on reddit.
We found another mentions of this at supforums.com (

some elite forum, closed for registration

).
Later Ogritch himself said that he will organize next Babyfather usa tour too.
— S Ogritch (@OFFICIALOGRITCH) April 19, 2017
Besides that fact that:

he released legendary album from Zomby
that became most discussing enigma of the internet music this year.
This is not hard to find different theories about "Zomby - Multiplayer"
in the variety of blogs and forums.
We have the original flyer with line up.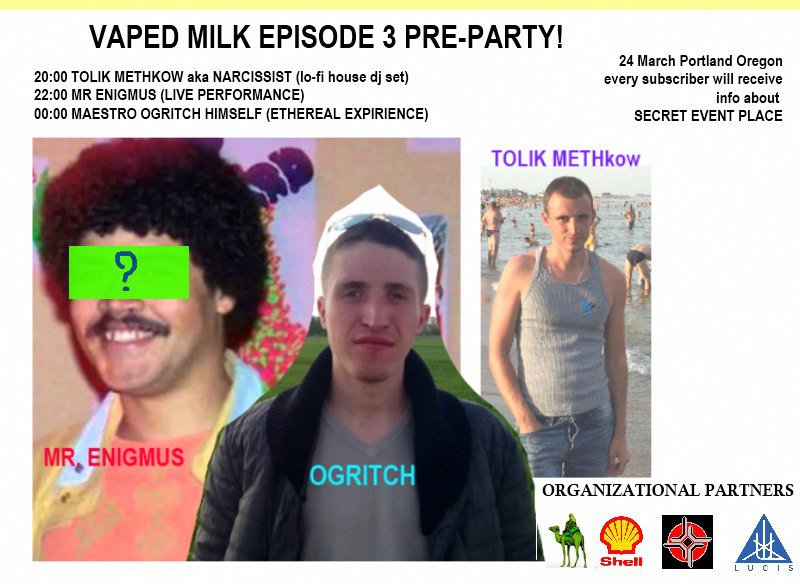 On the picture with Ogritch here Tolik Methkow, with whom Ogritch started their unfamous World First Vapour Digest (according to the official soundcloud page)
and MR. ENIGMUS - who probably new person in Ogritch crew,
to be honest this guy reminds us young Jimmy Hendrix, and this is really hard to find any information about MR.ENIGMUS in web.
His VAPED MILK radioshow fka World Famous Vapour Digest became a cult in vaporwave community,
"

The main idea is build connection between classic vaporwave and new sub-genres like hardvapour, and bring the light on unknown but amazing

" - Ogritch says for TMT interview.
Yeah, we can see Ogritch is pioneer of the vapour movement,
probably one person who doesn't writes music him self, but does a bunch of things creating most interesting internet music enigma this time.
But stop, maybe he write music too??
how about this announcement about collaboration with James Ferraro?
#madness.........
*
On the latest Hype Williams track we really can feel '

this guys goes hardvapour'

,
not only about sound, but: narrative, aesthetic, broken english and fake russians.ukrainians,
all this games with new members of band (who doesn't exist)...
Now some mysterious connection between Ogritch and Dean Blunt is visible,
The future is vapour

And that vapour is Hard

— ZOMBY ® (@ZombyMusic) October 5, 2016
--------------
ALBUM OF THE MONTH: