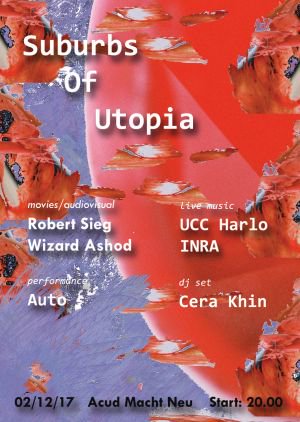 Suburbs of Utopia is a gathering beyond the constraints of the Now: music, performance & movies, curated by INRA. Think & Dance!
Cera Khin
dj set [
LazyTapes
]
UCC Harlo live
INRA
live [Pinkbox Teleport]
Movies & Audiovisual
Robert Sieg
[Essay movie "Things go wrong very slowly..."]
Wizard Ashdod [
FULL BODY Massage Records
]
Performance
Auto [
Pia Achternkamp
& Judith S. Förster]


ABOUT: They took advantage of their feelings/ They rubbed their skin until their skin dissolved/ And fell on the floor as tales of nostalgia/ But the future is a better guide/ To the present than the past/ So they developed counter algorithms/To build and island called/ Suburbs of Utopia/ There will be free chocolate with caramel sea salt/Free health care and a thousand sexes/A universal basic income/And art that does not/ Refer to the familiar/ But to the New [INRA].